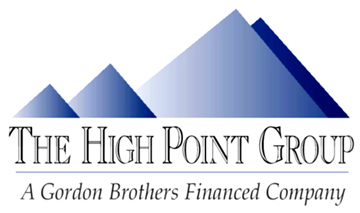 This site designed and maintained by Adlantic Advertising & Design 2005
The
High Point Group
(
HPG
) is dedicated to providing solutions for the Home Furnishings Industry through retail event marketing and operational consulting.
Our seasoned professionals are committed to leveraging their years of experience in the home furnishings field to maximize your profitability.
HPG
can:
*Dispatch professionals to stores throughout North America to
implement your strategic plan.
*Provide immediate operational assistance through innovative promotional sales
and merchandising techniques that convert your assets into immediate cash.
All operational aspects of an HPG promotion, from budgeting and advertising to human resources management, sales tracking and merchandising, are handled by our bonded, insured industry professionals. We work with your own staff as strategic partners-respectfully, professionally and with integrity.
Further, the
High Point Group
will provide the highest cash value for your existing inventory. Our unique methods have been designed to yield the greatest profits possible on your promotional event.
Click here for streaming videos of current HPG Promotional Events